Katsura Kotaro - Gintama
Andy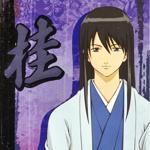 Made In: 2018
Status: active
Notes
This costume was put together for Anime Central 2018. I'd been doing a lot of traveling in the time leading up to this convention, so it was nice to have a costume that I only had to sew one garment for.
Components
Haori
Made following the directions in 'Make your own Japanese Clothing' by John Marshall. Fabric is a rayon twill from Dharma Trading.
Kimono, Juban, and Obi
The kimono is a dark blue wool men's kimono purchased from Tangerine Mountain. The juban is a women's juban, also from Tangerine Mountain. The obi is a men's obi from an ebay seller.
Wig
Wig is a Venus in black from Arda wigs, trimmed to length.