Sakizou Design - Sakizou x Sukiyaki collaboration
Andy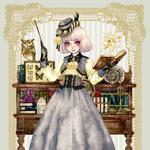 Made In: 2018
Status: active
Notes
This costume is a pretty big departure from my usual fair. Most of what I've made in the past has been either historical or men's wear. It was the first time I'd attempted to make a woman's blouse, let alone attempt pintucks on a project. While there are minor things I'd adjust about this costume (the fabric photographs darker than I expected, the jacket shoulders could have been brought in)
Components
Shirt
Based on a pattern from Otome no Sewing book 6. The pattern was altered to include a pintucked front, black satin collar, and cuffs in the same fabric as the skirt/jacket.
Jacket
Based on Simplicity Pattern 1819; sleeves removed, other slight alterations made.
Skirt
Circle skirt with attached 'corset' waist. Skirt zips up the back, ribbon lacing allows for final adjustment of the waist.
Hat
Pattern adapted from lostwaxoz.com's tiny tophat pattern. A foam hatblock was constructed, and used to help shape various heavyweight interfacings.