Sharak Sanzo - Saiyuki
Cocoa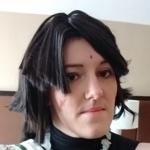 Made In: 2017
Status: active
Notes
Pretty much as soon as Sharak first appeared in the manga chapters of Saiyuki Reload Blast, I went 'holy shit I want to cosplay her' because what a total badass. The idea kind of got put on the backburner until the Reload Blast anime started airing and I needed something lightweight for Dragon*Con to not die of heat, and the time seemed right.
Components
Robe
The Sanzo robes are like some weird cross between a kimono, traditional Chinese robe cuts, and western style cuts (it has shoulder seams!). I ended up using the Butterick kimono pattern that is absurdly inaccurate for kimono but pretty close for this, and then modified the shape of the sleeves and added side gussets for fullness. It's made out of raw unbleached silk, which is thankfully both fairly inexpensive and pretty comfortable.
Shirt + Arm Sleeves
Lightweight black rayon jersey, which I mostly just draped real quick before serging - stretch fabrics are fairly forgiving if you're wearing them with negative ease. The armbands and rings on the sleeves are Thibra colored with silver Rub'N'Buff, and attached directly to the sleeves with super glue. They stay up surprisingly well - I managed to get the sizing on the arm cuffs such that they just barely fit over my biceps, so friction and muscle flex keeps them up.
Sutra
The biggest challenge of this project, probably. I considered a few different ways of mechanically reproducing the text (stencils, block prints) before finally deciding on a more low-tech solution - I typeset the first half of the Heart Sutra (because we don't have texts for the Kouten Sutra, given it's fictional) in a cursive Chinese font, printed it out, put translucent rice paper on top, and trace the print out with a brush pen. My calligraphy skills are atrocious, but reading cursive Chinese is a rareified skill at this point so hopefully not too many people could tell. The backing is kona cotton, and the two are attached with spray adhesive, which proved to have a solid enough hold without any weird interactions with the rice paper or calligraphy ink.
Accessories
Belt-tail was hastily thrown together from some scrap fake fur. The string of beads on her sash are chip aquamarines from Fire Mountain Gems - I had originally bought them to do her main necklace, but when they arrived I realized they were too small. I ended up buying some giant rough quartz beads on Etsy for that. They're strung with spacing knots so that the beads don't bind up on each other. The gun is a cheap black airsoft model of a long-barrel Desert Eagle (which is what Sharak's main pistol is). I disassembled it, sanded off the lines from the injection molding and the airsoft manufacturer's marks, and filled in some spots with bondo before priming it and making it silver with Rub'N'Buff. The surface finish is unfortunately pretty delicate, and has already worn off in a few spots. But nobody takes care of their stuff in Saiyuki anyway.
Wig
Everyone has terrible bangs in Saiyuki, but Sharak has extra terrible bangs and a mullet along with it. I took a Venus in Arda's silky line, in the Espresso color (because pure black = super goth on me), and took out all the short bang wefts before basically completely redoing that area with new wefts to make the off-center part. The actual styling of the bangs was hair spray and prayers. I opted to make it slightly less mullet-y than canon just because I can't get that nice fan out her hair does without it looking really dumb in real life.